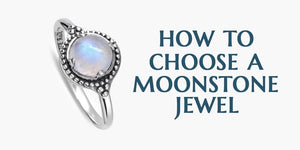 How to choose a moonstone jewel ?
Jewelry is a woman's best friend, right? How can you be sure that the moonstone jewelry you buy online is right for you? That it's the kind of jewelry that will speak to you while representing you perfectly? There are so many factors to consider when buying jewelry for yourself. Moonstone earrings should be purchased with your face shape in mind.
Rings should be purchased according to the size of your hand and the finger you want to wear them on. All jewelry should be purchased according to your preferences and needs, but there are some things that are common and that you should keep in mind when purchasing moonstone jewelry.
We will discuss them, but before we do, let us understand what kind of effects the fine stone will have on you if you wear it and how you can benefit from these effects, because no matter what shape, size or cut the semi precious stone (cabochon) is, its effects will be the same. Moonstone is really good for, literally, everyone because it has certain qualities and benefits that everyone can benefit from. It makes the wearer wiser, more emotionally healthy and expressive, more loving and caring.
Quality of Moonstone Jewelry
Gemstone jewelry is known for the luster of the gem (aquamarine, blue topaz, citrine, peridot, etc.) and this is the most important measure of quality when purchasing a moonstone. The luster of an adularescent stone should have a blue-violet color. The deeper the hue, the better the quality of the moonstone. Another way to check the quality of moonstone is by the number of inclusions. Small cracks and crevices in the moonstone are something to consider when buying a moonstone.
The adularescence of moonstone jewelry
The semi-precious stone is a mineral of orthose feldspar revealing a lax opacity and a sparkling white front known as "cat's eye", the moving band of light. Some call it adularescence for its mysterious glow that changes position each time the stone is moved. Moonstone can be seen in subtle shades of blue, white, peach, gray, and a kind of gemstone also called the rainbow moonstone. In ancient times, stories have been told about how people see the creamy glow of silver from the crescent to the waning moon.

The fewer inclusions there are, the brighter the stone looks on top. This special sheen is known as adularescence and this term is only used for moonstone.
The shape of moonstone jewelry
When you buy gemstone jewelry, the shape of the natural stone is completely up to you, but there are some things to keep in mind. If you have a triangle-shaped face, you should wear inverted triangle earrings to complement your face shape. Thin and delicate fingers are suitable for smaller rectangular or oval shaped silver rings, while if you have fuller fingers, you should opt for square or round shaped gold or fine stone rings. You are free to choose the silver pendant or moonstone necklace you like, as they will all look great on you and in your jewelry collection.
Moonstone rings, earrings, pendants and bracelets are all beautiful jewelry and their shape should be chosen according to where you want to wear them. For casual events, when you are going to pair them with an evening gown or a party dress, you should choose a smaller moonstone.

On the other hand, if it is a casual event, you can choose to pair semi precious stone jewelry set in large size to go with those casual outfits. A very small silver moonstone ring on fuller fingers will not look as good as a ring with a large moonstone, this is also something that you should keep in mind.
The metal used for moonstone jewelry
It is of utmost importance to pay attention to the metal of the jewelry as the cost you will pay is likely to be higher for the metal and lower for the gemstone (e.g. gold jewelry), unless it is silver, but even then it depends on how much silver is used. Moonstone jewelry is available in 925 sterling silver, rose gold, yellow gold, platinum and some inexpensive metals. It is important to buy from a reliable source, as you cannot look at the metal and judge its authenticity.

For silver jewelry, you can check the "925 Sterling" stamp on the back of the jewelry. For a gold ring you can also find a hallmark representing the title of the precious metal alloy used.
Buying Moonstone Jewelry
Buying jewelry is always a bit tricky but if you follow this guide, you won't find any problems because you will know how moonstone can benefit you and how to choose the right moonstone jewelry for you. Whether it is the quality, shape or size, you will not find any difficulty in these areas because you are ready to get the perfect moonstone jewelry. If you are looking for a jewelry store that offers something other than the usual bracelets, gold necklaces, sapphires and diamonds, then you are in the right place. We have a whole selection of jewelry that will be perfect for your Crystal Healing sessions, and for glowing in your evening dress.
The most beautiful moonstone jewelry
Fashion has taken moonstone under its wing. With pendants, bracelets, necklaces and rings that show off the ethereal wonders of Moonstone, anyone can be captivated in a heartbeat. Matched with stunning silver and intricate carvings, moonstone is one of today's most fascinating gems. Witness the timeless magic of moonstone by wearing it on a full moon. Choose a sterling silver moonstone ring or a gold-plated necklace set with a magnificent gem in our store, the choice is varied and there is bound to be a model made for you.

In our jewelry store, you will find moonstone jewelry, rings, bracelets, necklaces and earrings. You will even find engagement rings which can be in ruby or emerald cabochon, but we made the choice to put forward the moonstone jewelry which will supplement your splendid collection of jewelry.
The benefits of wearing a moonstone jewel
Why wear moonstone jewelry? Many people like to wear this accessory only for its beauty. But thanks to its natural magnetism, this jewel also contains many unsuspected virtues. Moreover, these benefits are perceptible by all: men and women; in full health, or going through a difficult life episode.

According to Crystal Healing experts, moonstone may promote better physical health. A bracelet or ring with this rare gemstone has many benefits:
The moonstone would improve the regulation of the nervous system
The moonstone promotes the production of dopamine, promoting the feeling of well-being. Moreover, it would reduce the secretion of the hormone responsible for stress;
This mineral would also have a soothing effect, and would also bring a good harmony of the digestive system;
For the sick person, the moonstone jewel is likely to bring relief and comfort. It allows to boost the organs and the immune defenses to better face an illness.
We specify here that the meanings of the moonstone constitute a complementary help to live in good health, but they should not in any case replace a medical opinion, nor a treatment in progress.

The moonstone is known as a stone from which radiates a soft and benevolent energy. It promotes harmony and positive emotions, for a newfound inner peace. This gem also has the ability to enhance imagination, sensitivity and creativity. It even seems to encourage extra-sensory abilities, and a form of clairvoyance, increased lucidity on oneself and on others. A moonstone jewel also encourages open-mindedness and goodness of the soul.

For a couple, thanks to its power and soft energies, this natural stone energizes love and understanding. The moonstone jewel positively impacts the couple's relationship and brings good vibrations on the partners. The moonstone is particularly beneficial for women. The gemstone is said to remedy various hormonal problems. Wearing a moonstone necklace or moonstone earrings with this gem would prevent menstrual disorders and cycle problems. For women suffering from menstrual problems, the moonstone could soothe the pain felt.


Finally, since ancient times, moonstone has been recognized as the stone that promotes fertility in women. For men, this gem has a calming effect. A moonstone bracelet will therefore be beneficial to those gentlemen with bad temperaments, or often feeling negative emotions such as anger or sadness. This bracelet can also be useful for a man with an impulsive character: it will help him to adopt a more thoughtful behavior and thus to find more serenity.