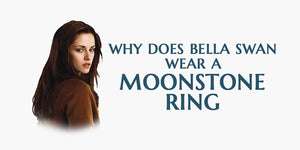 Why does Bella Swan wear a moonstone ring ?
The romantic tale of the love story between an ordinary girl and a vampire, based on the work of Stephenie Meyer, has millions of fans. The plot of the books was adapted and Twilight eventually became one of the most moving sci-fi movies ever made. Fans of the film eagerly followed the evolution of the relationship between vampire Edward Cullen and Bella Swan, which resulted in a lasting union. You may have noticed that Bella Swan wore a moonstone ring in this famous movie series, and you wonder why? This jewel with the color of the moon has multiple meanings and benefits.
Bella's mother gave her the moonstone ring
In Twilight, Bella Swan, played by Kristen Stewart, receives this moonstone ring from her mother, Renée Swan. Beautiful and evocative, this jewel is present in many shots of the first chapter film, and even in a scene of Twilight: New Moon, where Bella comes to pick up her beloved vampire Edward Cullen in Italy when he wanted to go out in the sun in front of everyone. Both in love, they felt at a distance. With her moonstone ring, Bella Swan can press her hand on his heart and feel close to him, she can sense if he is in danger. Also, as a vampire, Edward Cullen feels more comfortable and safe in the dark. The midnight blue color of the moonstones allows Bella Swan to not assault her handsome lover on their date.
Bella Swan's moonstone ring matches perfectly with the pendant she wears in the Twilight saga. Moonstone is known to help people manage their emotions, relieve tension and get rid of anger. Moonstone awakens creativity, imagination and inspiration. One of the magical properties of moonstone is its ability to develop intuition in a person, giving them the gift of foresight. 
The benefits of moonstone on Bella Swan
The magical powers of the moonstone are enhanced during the full moon. The moonstone attracts love, so it is advisable to wear it just like Bella Swan when you are single and want to find your soul mate. Who knows, you might find your Robert Pattinson too! It is also common to give moonstone as a gift to your loved one, as this mineral helps preserve feelings, prolong passion and make love last forever. A ring or pendant with a moonstone is a symbol of eternal love and a talisman for two lovers, especially if they are separated.
This ring could be a wonderful gift for a fan of the movie Twilight or simply for a beautiful and romantic girl who appreciates grace and beauty. You can now buy the Bella Swan moonstone ring in Moonstone Store. It is a faithful reproduction of the ring from the saga made with a natural and powerful moonstone.